Planning to move outside the US? Prepare for extensive document verification procedures then! When moving to a foreign country, intensive verification procedures must be undergone by the individual to ensure a smooth legal transition. This includes the attestation and authentication of documents by various agencies of the government.
While the process may not seem daunting at first, once you embark on your quest to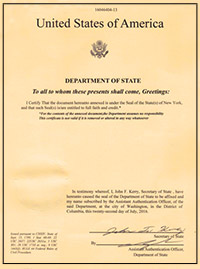 get all those diplomas and legal documents verified through both the federal and state agencies, and then the foreign embassy, you will begin to get an idea of the amount of time and effort that the process entails.
One of the primary issues is the location. Most embassies and the necessary government departments, through which various steps of document authentication are performed, are located in Washington DC. For attestation of documents, you will either need to be physically present at the DC offices, or go through a cumbersome process of repeatedly mailing and receiving your documents to and from various state, federal, and foreign agencies. Let's take a look at the actual steps involved during document authentication.
The Chain Authentication Process
Basically a long paper chase involving the circulation of your documents through a series of government departments, while subsequent steps of certification and authentication of documents take place at each agency in a chronological order.
Authentication by Secretary of State where the documents are issued or get notarized.

Once certification from Secretary of State is obtained, US State Department authentication is obtained.

Embassy legalization process is undergone; the process varying depending upon the country of destination.
The aforementioned steps are generalized to give you an idea of what awaits you once you set out on the mission for document authentication. The process differs as per the types of documents you need to get attested. If, for example, you need to get a document authenticated that has been issued by a US District Court, you will also need to get an authentication seal on the documents from the US Department of Justice. If the country you are going to comes under The Hague Convention Treaty, you will need an Apostille. Certain countries require either a certificate of 'Good Conduct' or a Criminal Background check.
Save Yourself the Trouble!
At this point, the entire authentication and attestation of documents probably seems like a huge hassle; and you must be considering ways to make the whole process easier. Well, fret not! At US Authentication Services, we offer services that will enable you to get complete peace of mind while also saving you the effort and time that is generally required when one sets out for the authentication of documents before leaving the country. Our one-of-a-kind document authentication services ensure that all you have to do to complete the process from start to end; FedEx us the documents, and we will get them all authenticated and delivered right back to your doorstep.
Serving the industry for the last 3 years, we at US Authentication Services have developed an ironclad reputation for being able to authenticate and deliver client documents in the least amount of time possible.
Whether you need an Apostille, or need to get your educational diplomas certified, we guarantee a streamlined process through our reputed document authentication services without you needing to lift a finger once the documents are sent!