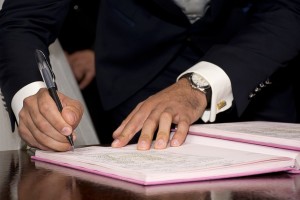 Living in a global economy, it's no surprise that many Americans choose to relocate to other countries for employment opportunities. There are also many families that choose to adopt children from foreign countries. In both cases, the message is clear: the world is fast becoming a nation of global citizens.
Whether traveling overseas to adopt a child, seeking new employment opportunities, or taking an extended vacation, there is a lot of paperwork involved to make sure everything is legitimate prior to your departure. This can be difficult to accomplish because most countries have strict requirements in terms of what paperwork and documentation is accepted as valid and genuine.
This is why an apostille service is essential.
In case you aren't familiar with the term, apostille is actually a French word that means certification. The idea of the modern apostille was born in 1961 at The Hague Convention where multiple countries came together and established a universal system for certifying documents as valid. If you are moving to or visiting a country that is a member of The Hague Convention, obtaining an apostille for your documents guarantees that this paperwork will be recognized as valid in the foreign country.
If you are looking for a company offering document authentication services in the USA, look no further than US Authentication Services. Our apostille service in Washington, DC ensures that your important documents are properly certified in the least amount of time possible. Rather than mailing your documents to the US State Department Office of Authentications, we hand deliver the documents for the fastest apostille and authentication service available.
If you would like to learn more about our authentication and document attestation services, give us a call at 1-800-893-5807 or Contact Us today for a FREE quote. Our professional and courteous staff can help guide you through the certification process from start to finish so you can focus on more important things – like packing for your trip.